Haunted Castles Ireland
With Halloween just around the corner, we thought we would do a small list of the best haunted castles to visit in Ireland. We all like a bit of a spook in our life from time to time and some of us like a spook a bit more than time to time, so much so that we might seek out a haunted location to investigate. Ireland is home to many a paranormal element. Some places are so well known that they provide guided tours, others are less well known. Below we have a list of some of the best haunted castles for you to visit.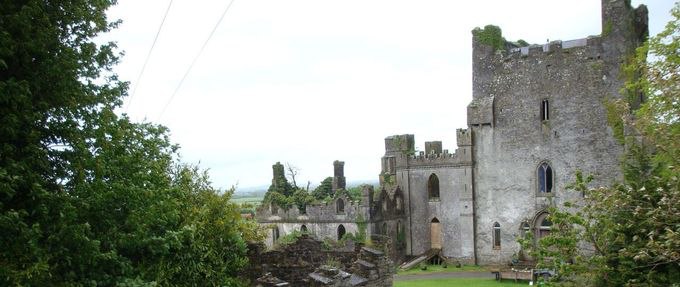 Leap Castle- Ireland's Most Haunted Castle
Leap Castle, located in County Offaly (just under a two hour drive from Dublin). Leap Castle is said to be one of the most haunted castles in Europe. Originally the site was used by Druids for initiation ceremonies and then in the early 1500s, the first castle structor was built for the O'Carroll Clann. There was huge rivalry between two O'Carroll brothers. One of the brothers was a priest and was holding a small family mass ceremony in the chapel, mid mass the other O'Carroll brother charged in and murdered the priest by stabbing him with a sword. That was the start of the paranormal activity, the chapel is now aptly named – 'The Bloody Chapel'. Over the next few centuries, the castle was home to more bloodshed and violence. In 1922 three cartloads of skeleton remains where found in the Oubliette. With a dark and bloody past and over 9 regular spirits seen on various occasions by different people Leap Castle isn't for the faint hearted. Sean Ryan, the current owner takes regular bookings for private guided tours around the castle, showing the different rooms, telling the history of the castle and talking about all the different spirits. For more information and to book a tour email Sean Ryan – seanfryan@outlook.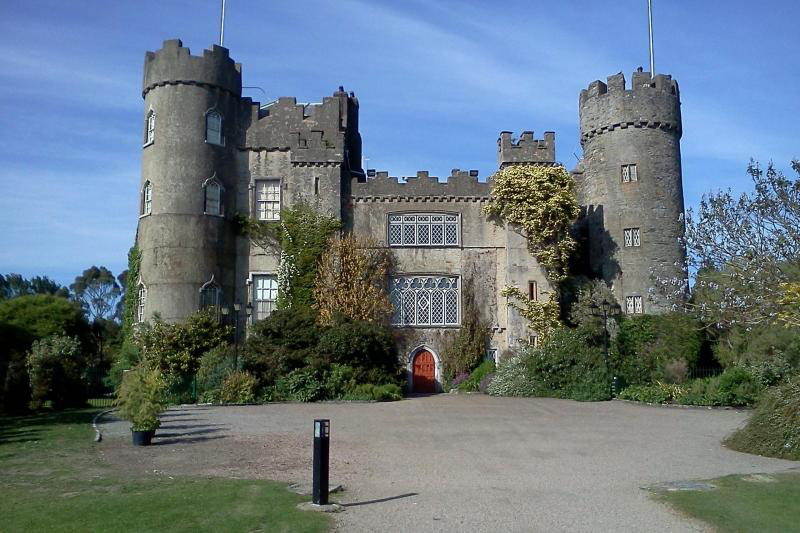 Malahide Castle in north Dublin was built in 1185, by King Henry II of England and was gifted to the kings friend, Richard Talbot. The Castle is home to Puck, a professional joker or a 'fool' from medieval times. Puck was found stabbed in the courtyard of the castle, on a snowy Christmas morning. The tales behind Puck say that he was a jester for the castle, who, when not entertaining would keep lookout for any dangerous threats approaching the castle, he was said to have fallen in love Lady Elenora Fitzgerald who was being held has a prisoner within the castle. His spirit has been scene by many of the Talbot family members over the years. The castle was sold to the Irish family by Rose Talbot in 1975. Puck's ghost has been seen by many of the visitors touring the castle. Malahide castle is home to four other spirits too, although they may not be as well known like Puck. Two short stories of the other spirits in the castle include the gruesome punishment of Miles Cobert, who was hanged, drawn, then quartered for treason and Walter Hussey, who was murdered the morning of his wedding (his bride-to-be later fell involve with his murderer). Malahide Castle is a beautiful castle to visit in Ireland and its conveniently located close to Dublin, you can explore the grounds or take guided tours of the castle, for more information click into – Malahide Castle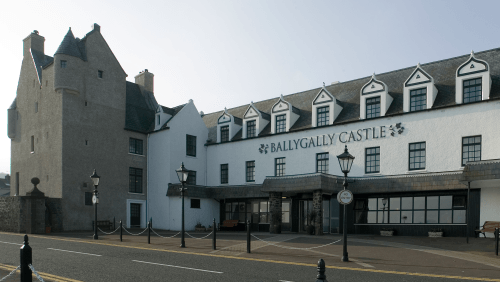 Ballygally Castle – Sleep Over
Ballygally Castle in County Antrim is home to Lady Isabella Shaw, whom is said to have been a permanent guest of the castle for about 400 years. There are two different stories behind her death, both of which castle blame on her husband after she gave birth to his son. One says after the birth of their son, Lord James Shaw locked his wife Isabella into a room at the top of the castle and upon trying to escape to find her son, she fell to her death. Another story says that Lord Shaw himself killed her or that he had her killed. Lady Isabella is said to be a friendly spirit who roams the castle. People can feel her presence or feel they have a moment that they cannot explain. You can stay over in Ballygally Castle (Lady Isabella Shaws ghost is said to roam the older parts of the castle) and you can also arrange a ghost tour by a member of staff, click here – Ballygally Castle Ghost Tour.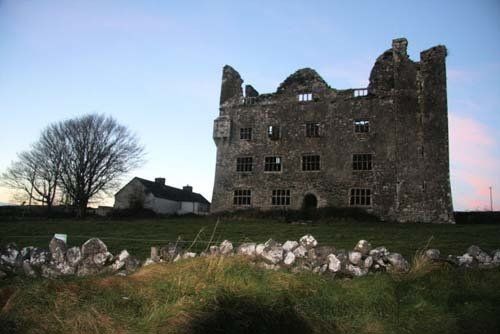 Leamaneh Castle – Explore the Ruins
Said to be haunted by Red Mary (or Máire Rua) the ruined site of Leamaneh Castle is said to be one of the most haunted castles in all of Ireland. Located just on the outskirts of The Burren national park, between Carran and Kilfenora. The history behind Red Mary is that she married Conor O'Brien and moved into his castle, carrying the wealth from her first marriage through to her marriage with Conor, Mary was able to build extensions to the castle, soon turning it into one of the grandest in the country at the time (1630s). Red Mary was known for her red hair that match her fiery ways and foul temper. It is said that if a servant couldn't do exactly what was asked of them or displeased her in anyway they were sent to death, if male they were thrown out a castle window and hung by the neck and if female they were also thrown out from a castle window, but hung from their hair, she was even known for punishing maids by cutting off their breasts. After a battle which severely injured her husband Conor, when he was brought back to the castle gates, Red Mary is said to have shown no sympathy and closed the gates to him and his men and shouted to them "What do I want with dead men here?". She then changed her mind and nursed him until he died. Later, having married again (for a third time) her husband Captain John Cooper felt her wrath, when he said something unfavourable about Red Marys second husband, Conor O'Brein, Mary jumped out of the bed and kicked him in the stomach, killing him. Obviously in her life mary made many enemies and this caught up with her, after the death of her last husband, Mary was captured and tied to a tree, left to starve and die. The location of Marys grave is unknown, but her she has been seen walking the halls of Leamaneh Castle and also in a druids alter near the castle. For more information on the history of the castle and on Red Mary click here – Red Mary at Leamaneh Castle. (The castle ruins are visible from the road, but not accessible.)
If you ever go to any other locations in Ireland that you sense a paranormal spirit, or even see one, we would love o hear about it. You can comment below or email us at info@perfectirishtrip.com